This is the second in my series of 'Things To Do During The Holidays Which Don't Involve A Screen', you can see the first one, which involved sacrificial pillowcases and some creepy crawlies, here. Our list of 'Out And About Activities Which Don't Involve Spending A Huge Amount Of Money' is coming along nicely but this series of things to do should provide us with ideas to grab when the inevitable 'Mu-um, I'm bored' rears its head.
Today I bring you Maize. Maize is fantastic messy style play which leaves no mess! (Apart from a dash round with a broom if someone has decided cutting it into miniscule pieces is a good idea.) It can get a bit sticky if too much water is added so I really squeeze the sponge out to avoid over enthusiastic dabbing.  The Early Learning Centre sell maize either as kits with ideas sheets, sponge and bowl included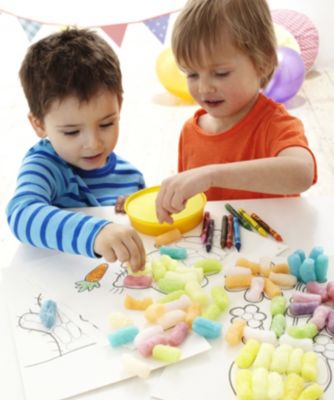 or loose as refill bags which is the option we currently favour. The idea is to dampen the end or side of one piece of maize and it will stick to another piece with no glue, mess or stickiness. You can cut the maize easily, it can be squashed to form shapes and the things which can be made out of it are only limited by your imagination.
My lot made a Christmas crib scene a few years ago, Baby Jesus and the Angel Gabriel looked quite something constructed out of maize! When Bonus Boy had a go this week he produced this rather marvellous snowman complete with fantastic carrot nose!
The Most Beautiful Girl In The World went for the emotions card in her attempt to out-cute Bonus Boy and gave me this:
Sensitive Soul came up with a magnificent surfer which he posed on the cushion he made at school and then took this photograph:
I do aim to bring you things on this blog which will appeal to a wide range of ages from Tots To Teens and I am sure many of you will have preempted me and guessed what we came up with to keep Teens happy.
Yes, you can do all of the above and more with a packet of Wotsits! Courtesy of the tall one I give you a dragon:
And, no modelling session would be complete without…The Eiffel Tower in Wotsits!
With the added Teen appeal that, once created, it can be consumed!
We now feel such an affinity with maize that we are planning a large construction during the holiday (probably with Wotsits) and a visit to a maize maze. You can find the location of a maize maze near you here.
If you do have a go at modelling with Wotsits and you post the results on your blog, do let me know and I will link to you here!